Dreaming of trekking through the never-ending red sand dunes of the Sahara Desert in Morocco? I don't blame you, the experience is nothing short of magical!
Camels casting elongated shadows against the soft Earth as the sun rises and sets, a scarf wrapped strategically around your head, and the sounds of drums in the distance. All things you'll experience on a Sahara Desert Tour!
The question now is just how to make it happen! There's so many tour companies that go to the Sahara Desert, so you'll want to pick the best one, especially if you're going solo! Most tours leave from Marrakech or Fes, and either way, it's a LONG drive to get to it. But when done right, you'll forget the long drive because of the epic experience!
To be completely honest with you, my Sahara Desert tour was part of my own #MyLifesATravelTRIBE Group Tripthat I offer once per year. We outsourced a local company to go with, and since it was such a good experience, and so many people have asked, I'm sharing their info here!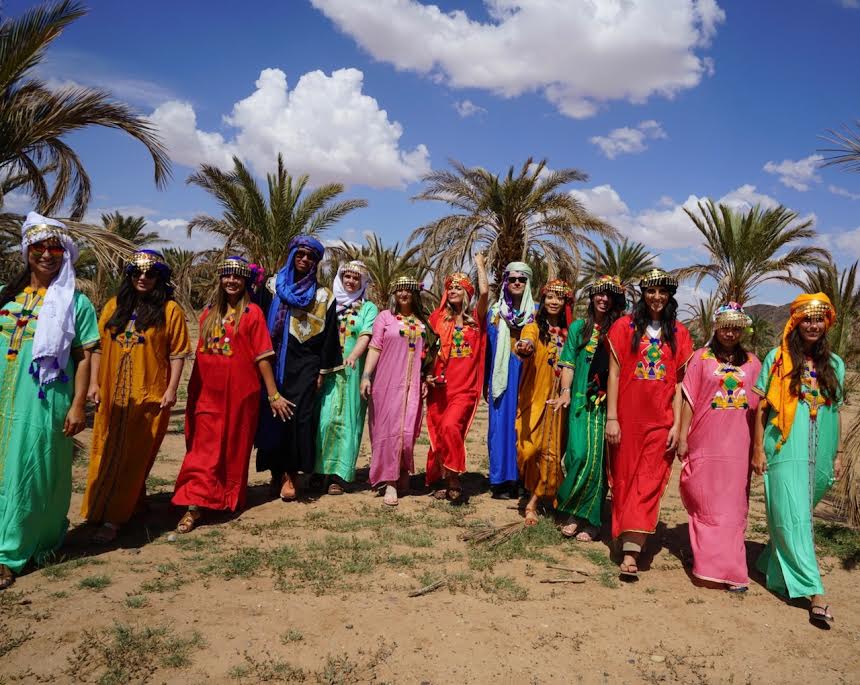 (BTW, If you're interested in signing up for one of my Group Trips next year, click here!)
We did the shortest tour due to time, so I'll go over what that entails as well!
Which Sahara Desert Tour Company to Choose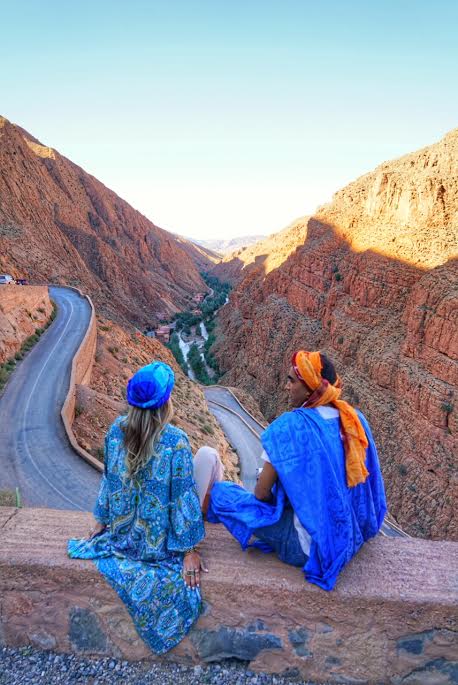 You definitely want to go to the Sahara Desert with a company who's not only reputable, but who has local guides as well. My guide for my entire group trip was from a Berber village in Dades Gorge (near Sahara), so was not only extremely knowledgeable, but was able to share the experience with us!
The company we outsourced is called Morocco Camel Trek and my guide that I'd recommend is named Abdoule (and driver is Abraham!). If you want to contact him directly, WhatsApp him and tell him I sent you: +212 651-162559.
We made some personal tweaks to the regular tour, like having dinner at Abdoule's family friend's house, but I'm sure if you mention me they'll be happy to give you the special treatment as well!
I can't really recommend any other companies since I haven't tried them, but I would recommend looking at the size of the tours and years of experience. I'm also super particular about how the camels are treated, so always be sure to read reviews first! I'll get to my opinions about this further down…
What's Included
Day 1: Marrakech to Dades Gorge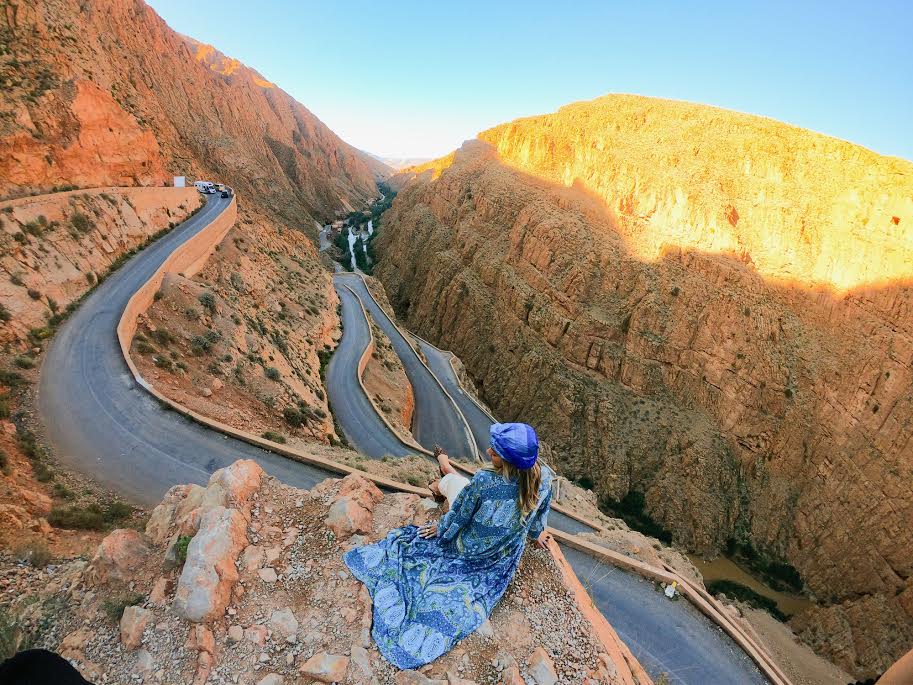 You'll make plenty of stops along this very long (six hour) drive, both for the views, and the bathrooms. Fair warning: the roads are very windey (and alongside cliffs), and there are few clean bathroom stops. That being said, I'd highly advise stocking up on Dramamine, Peptobismol, snacks and water before you go!
Your first stop will be at the largest Kasbah (Berber village) in Morocco. It's also well-known for being the filming site of many famous productions, including Game of Thrones recently! It's a fun and easy little adventure to hike up to the top for photos, then cross the river by stepping stones on the way back.
Night 1: Local Berber Dinner, Dancing, and Henna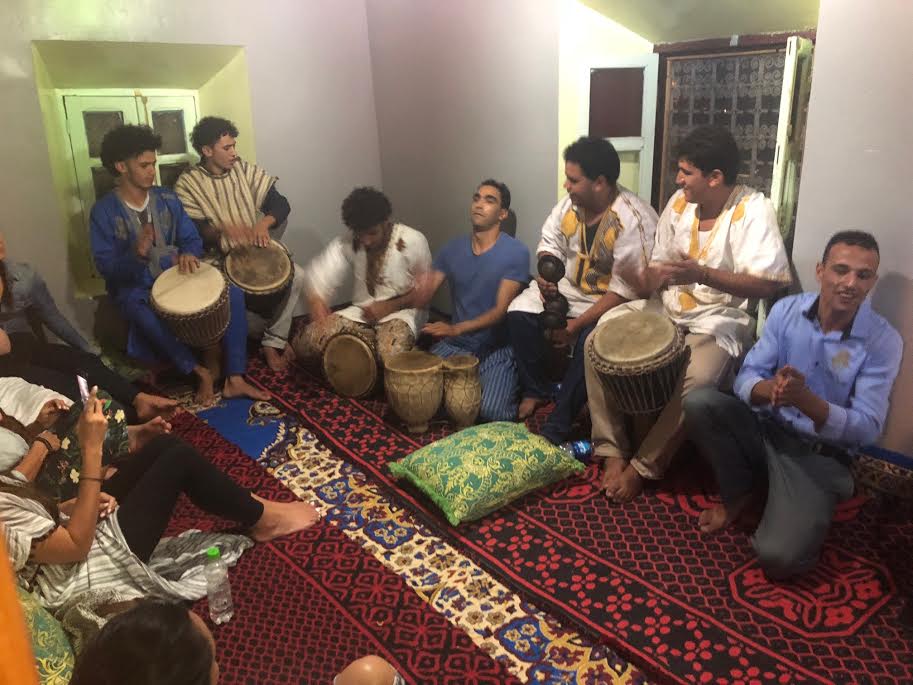 Again, the activities I did with my group will differ from regular tours since I custom-made it, but I'll explain it just in case it's offered! After we checked into our beautiful Berber hotel, decorated with everything I wanted to desperately take home, we headed down the street to our guide's family friend's home. 
This is a real home and a real family, making the the experience really unique! We started the evening with dinner which the family cooked for us, and I got the privilege of sitting next to the two little kids! Everyone shared massive meat tangines while I had my own separate vegetarian one.
After a four course meal, the plates and tables were cleared, and in came the local guys carrying drums and clappers. Our guide joined them in a beat they all knew, and I tried my best not to have a panic attack from the vibration of the floor that felt like an earthquake.
Soon enough we were all up and dancing, or trying our best to replicate the beats on the drums. After the drum jam sesh, the women of the family treated us to henna designs on our hands and feet! 
Day 2: Sahara Desert for Sunset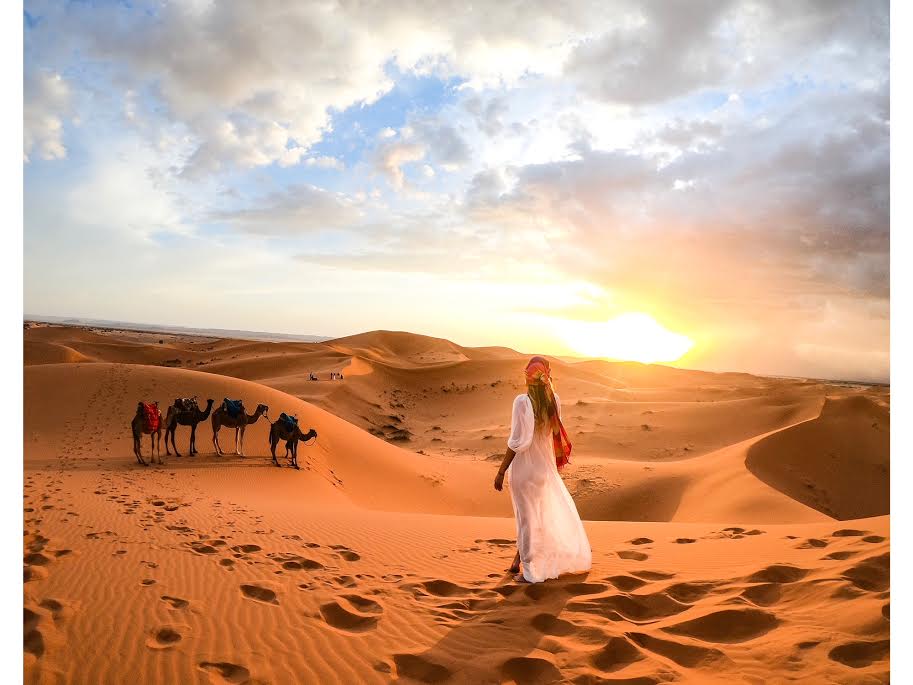 The way the tours are planned makes it so that you arrive at the Sahara Desert for sunset. They do this because it is WAY too hot to go there during the day. So we had another extremely long six hours of driving until we finally got there.
When we did though, everyone's moods were heightened. The sight of the towering red sand dunes alone and the camels awaiting their journey is just mind-blowing. We excitedly changed our outfits in the car, wrapped our head scarves, and packed whatever small bag we wanted to take on the camel.
About Camel Riding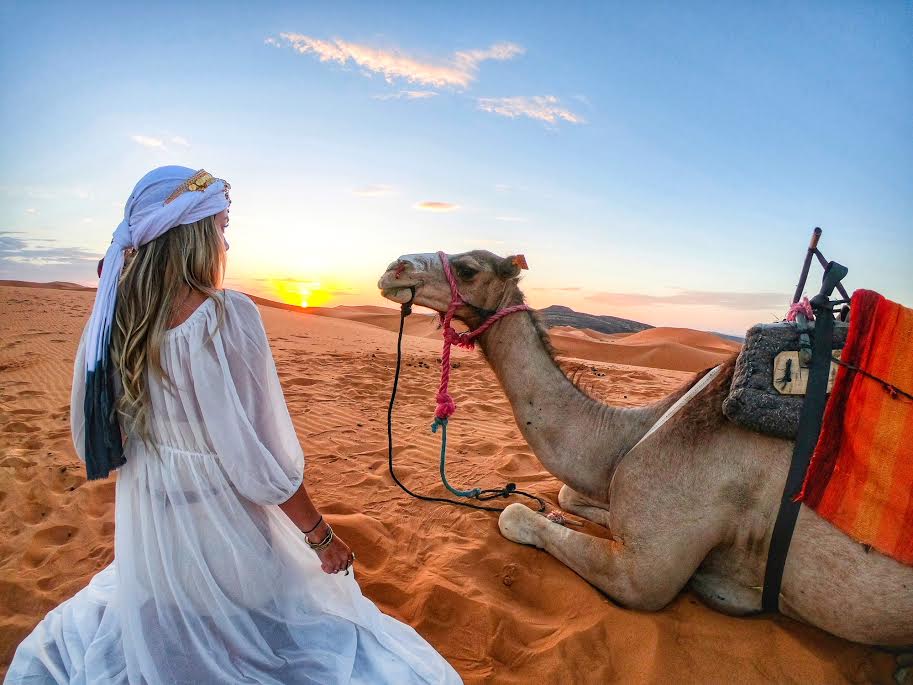 I personally don't like the way the camels are treated anywhere that I've seen them in the World. In order to get on them, they have to be forced to uncomfortably kneel down then stand up, and they make a really sad noise when they do it. But seeing as camels have been used for transportation for centuries, it's hard to say not to do it, whereas I'd definitely say not to ride elephants. 
There was one point where I freaked out very loudly because my camel's harness was tied too closely to the one in front of it and it laid down before the one in front did, making it strain its neck and tug at its face. The guide insisted "It's normal" but I kept protesting until he untied the entire rope and let the camel free.
Anyway. Expect to be a little uncomfortable and sore riding the camel for an hour (I wasn't but half the group complained). And if you're like me, expect to get a little heartbroken seeing the process of getting on the camels.
Night 2: Glamping and Drum Circles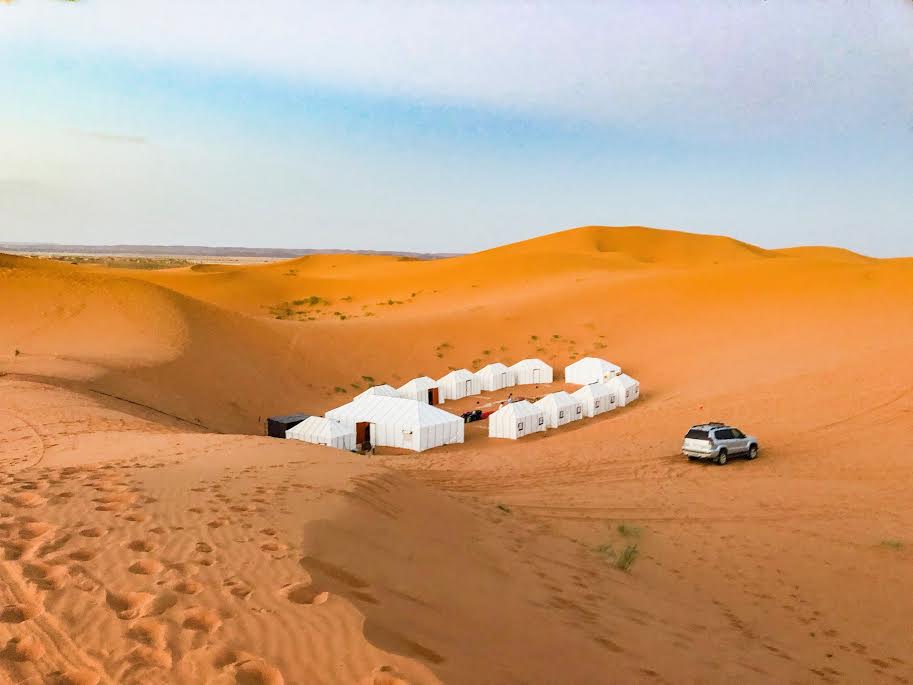 If you're wondering what exactly glamping means, let me be the one to enlighten you! We essentially treaded down one of the dunes to find a very well put together camp of about ten tents, and two larger ones at each end. Each tent had a hard floor structure, proper doors, and even hanging light fixtures!
The beds were proper beds; either full or twin sized, and everything inside was decorated with Berber rugs, blankets, and decor. 
You're probably especially wondering about the shower/toilet situation right? You'll be glad to know that there are clean, individual stalls with hot water showers, and toilets!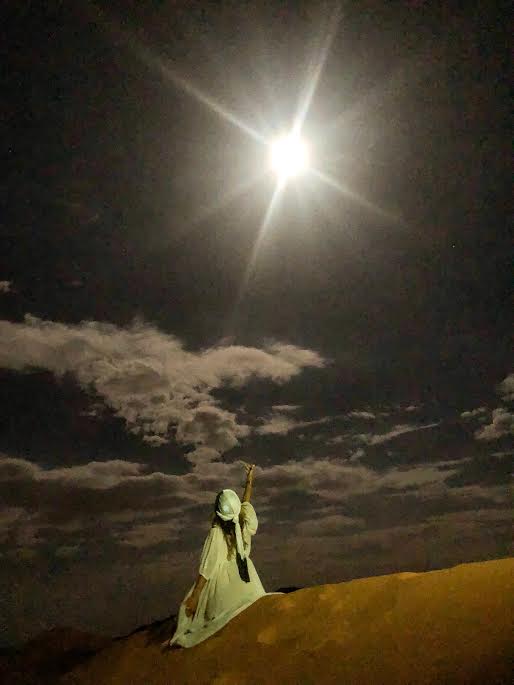 You might also be wondering about the food. Well, they call it the "restaurant" and the food is made and served accordingly! You'll have a feast of local Moroccan cuisine for dinner, as well as a very early morning breakfast.
After dinner you'll sit around a fire under the moonlight as locals play traditional beats on drums. If you're bold, join in or start dancing. Not going to lie, most of us brought wine out to the desert, so there was definitely a lot of drumming and dancing going on!
You won't be able to ignore the iridescent moonlight bathing the tops of the dunes, and it only gets more magical if you climb up! Our whole group scattered up barefoot and laid down at the top, telling stories, taking photos, and soaking in the seemingly unreal moment.
Day 3: Sunrise Trek Back and a Long Ass Drive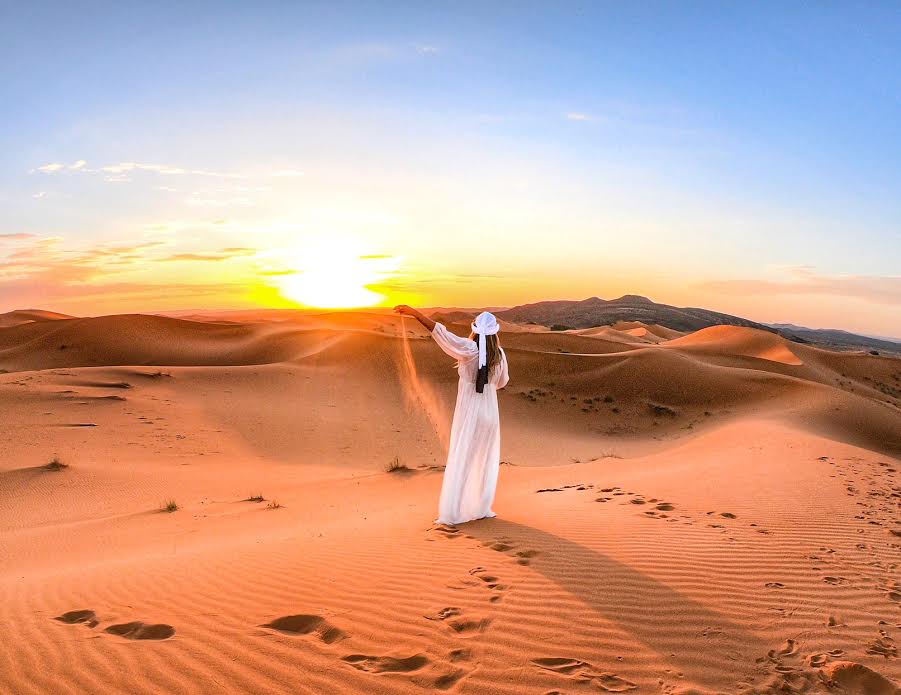 If you're only doing the 3-day, 2-night Sahara Desert Tour like I did, you'll want to wake up for sunrise the next day. If you don't, you won't be able to take photos/ride the camels back because it will be too hot any time after 8am.
I personally hate waking up early, especially after being up all night, but it was well worth it. The sunrise over the dunes is beautiful even though it looks exactly like sunset, and the camels are calm and unbothered.
Enjoy your hour long ride back, because you have a LONG ass ride back to Marrakech from there!
Read more at: https://mylifesamovie.com/2018/09/30/best-sahara-desert-tour/